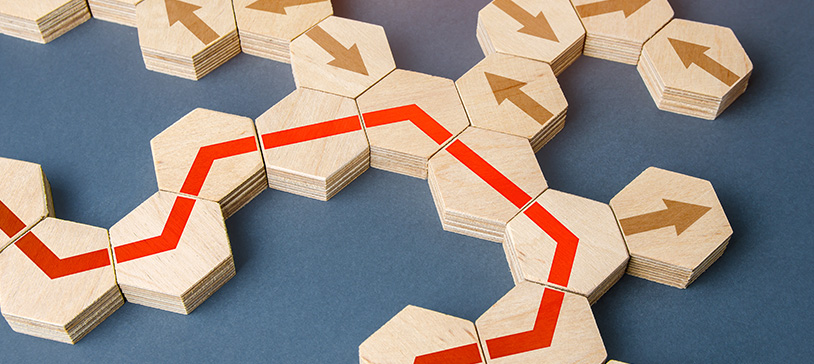 A dawning of a new way to learn
After taking a deep dive into its current curriculum, the Charlotte-Mecklenburg School (CMS) system identified a handful of opportunities to help improve the programs offered to its students. One of the biggest gaps administrators found was that there was a disconnect from what was being taught in the classroom and what was happening in the real world. What students were getting, in essence, were outdated perspectives of the trends and strategies transpiring on the ground, so to speak.
And then Nakesha Dawson, Ed., had an idea. After scrolling through some Instagram posts of a colleague who runs a creative consultancy and boutique brand identity group in Atlanta, Dawson, CMS' CTE Marketing and Adobe Digital Pathway Lead, decided to reach out and see if they could partner on a way to revitalize some of its programs, particularly the digital marketing curriculum.
David Tann, Tantrum's founder and CEO, was on board. So, in spring 2019, Dawson and Tantrum convened to begin the process of reinventing part of CMS' learning program. "It's all about branding, and David's brand looked really good," Dawson says. "In my mind, I like to reach big. I'm thinking, 'Wow, if we could take what he's doing with his clients and bring it to our schools and teachers, imagine how engaged our kids would be. Imagine what they would be able to do.'"
Connecting the real-world principles with the classroom is a dance that is helping change the way today's K-12 students are learning. For his part, Tann went to Charlotte, sat in the classrooms, reviewed the curriculum and talked with the teachers. The buy-in is that the teachers would be able to speak the language of what was happening in the field. "That's just so powerful," Dawson says. "So now, as a teacher, I have lesson plans that I can go in and I can do tomorrow. It's turnkey. Everybody wants something they can use tomorrow."
The program Tann helped create for CMS is called Lacuna—the Latin word for gap. Tann dug in, consulting with the CMS marketing team, studying the blueprints for the introductory courses of both the marketing and business pathways. He and his team identified the core principles in each program and identified key words, terms and concepts that were not covered in the existing curriculum.
"We knew that the core curriculum is what the students would ultimately be tested on," Tann says. "Our goal was not to create materials that replaced the current curriculum. Rather, we sought to develop supplementary materials that helped bring the curriculum to life in ways that are interesting and relevant to today's student."
One of the more interesting workshops he conducted with teachers revolved around mass marketing. When he noticed that the concepts they were teaching were outdated, he decided to educate via example. Handing out water bottles to each teacher, he observed with curiosity until one of them noticed all the brands were different. "If water is a product that is mass marketed, how could there be so many different brands? And why are some of them $2.99 and others $4.99?" he asked. He figured that mass marketing would drive less brand variety and more common pricing among like products.
The workshop was in the spirit of what Dawson's vision for the program was all about. Today, Tann is working on adding similar enhancements to its Sports Marketing curriculum. "When teachers get it, that's when everything works," Tann says. "We are not trying to jump on every train, but instead, just trying to see what works and carve out our objectives from there."
The new way is the best way
From where Raymond Pierce sits, he is very encouraged by how innovative the K-12 mindsets are becoming today. From approaches to high-impact teaching and tutoring, teacher training and creating, and enacting more effective educational structures, the President and CEO of the Southern Education Foundation (SEF) is seeing an increase in innovative approaches and strategies.
Through a variety of programs and strategies involving research, analysis, advocacy, technical assistance and outreach, SEF works in areas like improving education policy and practice, and strengthening parent, school and private sector efforts to better meet the needs of underachieving students and prepare America's future workforce.
Pierce believes that the past few years have, in some sense, opened up people's ability to think in creative ways about how to address traditional issues. "My experience recently has given me a positive sense of the potential of those innovative ideas. The future state of education can only happen if we break down silos in our education system, and fund children and young people based on a prenatal through age 20 model."
The other side would be to keep a fragmented system that treats early childhood education, elementary, secondary, higher education, and workforce development as separate from one another. Pierce says that specific investments must be made to support every child's overall wellness needs as well as high-quality staff development to support anywhere, anytime learning.
"My vision of the future learning environment is more personalized, precise learning," Pierce says. "We know that students learn well when they are given individualized support, and an increase in this individualized focus is where the future of effective learning lies."
One of those areas is technology, where refining it properly will help support personalization. Increasing student-centered focus to acknowledge that students are individuals who learn in different ways will enable today's schools to better meet the needs of all students. "There has already been some movement toward this goal, and increasingly customized learning for students can enable them to progress quickly and effectively in ways that fit with their needs and goals," Pierce says. And as important as ramping up the innovative mindset is, being able to recruit and retain top educator talent and the delivery of academic instruction is equally as vital. Today, as we head into bits and pieces of a post-COVID education system, securing top instructional talent that is able to carve out these innovative and groundbreaking curriculums must remain a critical focus.